Richard Nolan and Third Rail
Subject: THIRD RAIL 30th Anniversary Comeback Premier
Boston's legendary THIRD RAIL (founded 1975) will perform Saturday, March 5
at 8:45 PM in the Kirkland Cafe, 427 Washington Street, Somerville. This
will be the group's first reunion performance since 1992. Jon Macey & The
Score will follow as the headliner at 10 PM.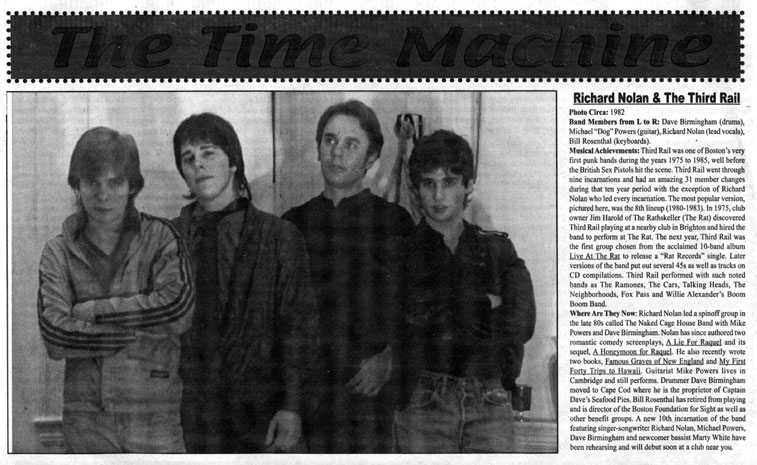 this article appeared in the January 2005 issue of Metronome Magazine
Disorganized Discography:
Richard Nolan and Third Rail
A New Life b/w Didn't Mind
1981
45 - stereo
An independent record release by Richard Nolan and Third Rail: Box 202 Auburndale, MA 02166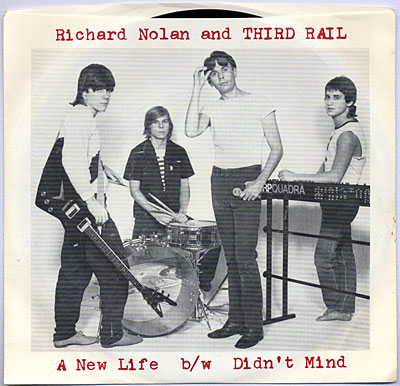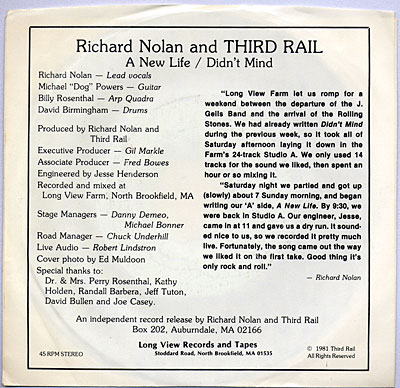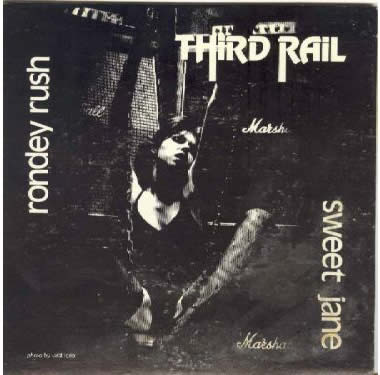 Third Rail - Rondy Rush/Sweet Jane- 45- stereo-Rat Records RR 5283 - 1976 45 RPM 7" release by seminal Boston New Wave/Punk band, Third Rail.
Band was led by Richard Nolan, and included Fred Pineau (later in The Atlantics). Sound of band was heavily Lou Reed influenced (as evidenced by the B-side cover of "Sweet Jane". Release on Rat Records (a by-product of the legendary Boston Punk club, The Rat, AKA The Rathskellar) and co-produced by owner Jimmy Herald.
Third Rail - It's a Surprise / Take That- 45- Stereo-Longview LV 8006 - 1980 release
45 RPM 7" with picture sleeve by Boston New Wave era band Third Rail headed by vocalist Richard Nolan. The sound of the band, with chippy, pulsating rhythms and hiccuped vocals, is roughly comparable to the Cars (sleeve notes in fact give thanks to Rick Ocasek of the Cars) .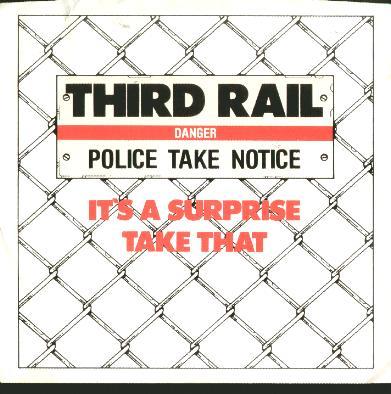 Various artists
Live at the Rat (2 LPs, Rat Records, 1976)
Third Rail:
-Billy Clarke, Lenny Dupont, Rick Martin, Richard Nolan, John Roy.
-"Bad Ass Bruce" and "Rondey Rush"
RICHARD NOLAN and THIRD RAIL
-A New Life 7" (1981)
Richard Nolan - Vocals
Michael Powers - Guitar
Billy Rosenthal - Keyboards
David Birmingham - Drums

richard nolan
the naked cage house band
shoestring records SR247
1988 also known as Third Rail
track dog 2:53
rolling in clover 3:35
both written by richard nolan - ascap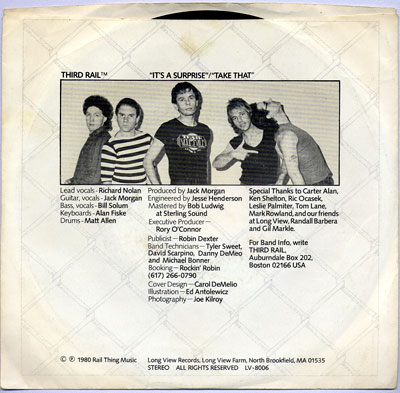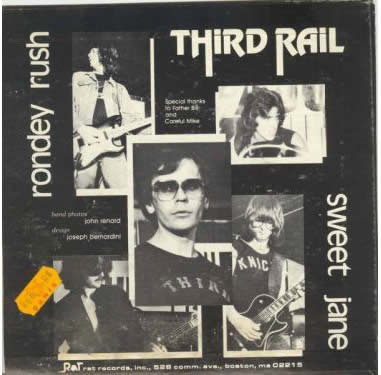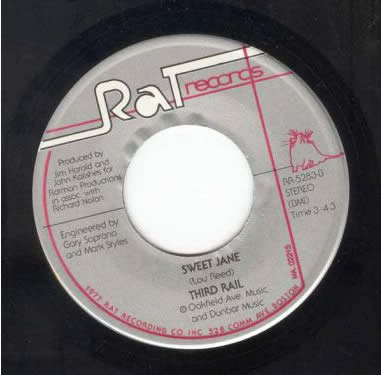 Related Bands
Bad Art Ensemble
Join The Bad Art Ensemble's, nationally known musicians, who join forces to cast aside their formal training to delight and astound their ten year cult audience at The Plough & Stars. Wacky & unpredictable.
The Gilmans
The Gilmans play old time country, gospel and train songs from the 30s to the 60s, including songs from The Delmore Bros., Buck Owens, Johnny Cash, and The Louvin Bros. This Three piece band features Terry Donohue on tenor guitar, vocals, bass drum & high hat, Jay Feinstein on bass guitar and vocals, and mike Powers on guitar. They might even pull out the musical saw for a number or two.
Zipper
A cheap stew of roots, Country, pop and 70's era Southern rock that features big,, jangly acoustic guitar work by Mike Powers of Bad Art and The Gilmans. This group of seasoned musicians refuses to take itself too seriously - jamming and improvising over songs about things likeheading off to Alaska to stay ahead of the law...This spicy dish includes other ingredients like The Allmans. Whiskeytown, and maybe a dash of Southern culture on the skids.
The Incredible Casuals
or: https://en.wikipedia.org/wiki/The_Incredible_Casuals
David Birminghams's band in the early '90's (?)
Push Push
David Birminghams's band in the mid '80's
The 1984 WBCN Rock and Roll Rumble contestants included Athens, Axminster, Ball and Pivot, Blackjacks, Breakfast in Bed, Drive, Dub 7 (formerly 007), Gluons, Going Graffitti (formerly Arthur Slick and the Nice Girls), Judy's Tiny Head, Pink Cadillac, Push Push, Red, Reflectors, Rods and Cones, Ron Scarlett, Schemers, Skin, SSD, Those Upstarts,1 Three Hands, Turbines, 2,000,000 B.C., Wild Kingdom.
Dub 7 and the Schemers advanced to the finals. The Schemers won.
Catharine David
"David has been a best-kept-secret for too long, but this latest stage could be her best." So wrote Steve Morse in his April 21, 1989, Boston Globe piece.3 "Her band, called Mom Over Dad, includes guitarist Steve Thorsen, drummer David Birmingham (from Push Push) and longtime accompanist Richard Gates on bass."
Willie "Loco" Alexander & the Boom Boom Band
Michael Powers played with Willie in the early '90's
[ back ]